Cheryl was awesome
"Cheryl was our loan officer with NBKC Bank. She was referred to me by a friend, and we had no issues whatsoever. Cheryl was quick to reply to my emails, always answered the phone, and was all around awesome."
—Adam Fisher from from Fairview Heights, IL
Never disappoints!
"This is the second time we work with Cheryl securing our mortgage. She was continuously in contact with us throughout the process, always available, promptly responding and addressing our mortgage needs. We have 100% trust that Cheryl will get us the best rates possible and make the process smoother. Very highly recommended!"
—Joe H from from Morristown, NJ
Knocks it out of the park every time
"I have used Cheryl on multiple occasions including family members Loans. Cheryl's customer service is exceptional in every aspect. Some of Cheryl's greatest attributes include timely responses, follow up, explains things very clearly, not to leave out very knowledgeable. Cheryl places her customers first with personalized service. I will continue to have Cheryl involved in all my transaction now and in the future wherever she is. 10 Star Service!! "
—GaryFrazier from from Clermont, FL
Happy Repeat Customer
"I have worked with Cheryl for two home purchases and would not hesitate to reach out to her again in the future. She is always on the ball, and ready to provide multiple quotes to show you all of the options. She is always so kind and helpful to work through all the twists and turns that come with buying a house. Thank you Cheryl, you are the best!"
—Isaac VO from from North Little Rock, AR
BEST in the Business !!!
"We feel like Cheryl is family, We have worked with her five times now and we trust her 100%. She is beyond professional and one of the hardest working people we know! She is also one of the sweetest people on the planet! She is a cross the t's dot the i's kind of person-super detailed. She was on top of everything, communication was excellent. We have recommended her before and will continue to recommend her in the future!"
—D & T Christianson from from Saint Augustine, FL
Phenomenal
"Cheryl made this process so painless and expedited everything faster than most lenders. I found a house on 17 Feb 2018 and closed on 20 Mar 18. Great interest rate. Update to this: Cheryl continues to be the greatest at what she does. I decided to work with her again for my other home purchase at my new duty location, and the process was even smoother than I expected. I will ALWAYS recommend her."
—Jennifer from from Marietta, GA
Simple and easy to work with!
"Cheryl was the best! I found nbkc on a late night scroll through NerdWallet, and I'm so glad that I found them. Cheryl made everything so simple and easy. As a first time homebuyer, I expected the loan process would be complicated and complex, but it was such a breeze. Cheryl replied almost immediately to all my questions, and she was ever so patient with me. I would definitely recommend Cheryl and nbkc to anyone. "
—stephanierkc from from Cave Springs, AR
A genuine and helpful person
"I shopped around, getting 4 quotes and dealing with 4 mortgage lenders, and Cheryl was by far the kindest and most genuine of them all. Wasn't pushy at all and did her best along the way to explain everything objectively, help us out with getting documents handled quickly, and generally just being there and supportive. My experience with Cheryl, combined with NBKC consistently near the top of the industry with their interest rates, make her an easy recommend for anyone buying or refinancing. "
—RJ Grieco from from Minneapolis, MN
Smooth, anxiety free process, great service!
"We've refinanced our mortgage several times with Cheryl and she has always made it a very smooth, anxiety free process. She always keeps us informed every step of the way. I can't imagine working with anyone else."
—john mcdougald from from Columbia, SC
Great experience!
"Working with Cheryl was a pleasure. She was always available for questions, to explain the process etc We felt like she actually cared about our needs as the buyer and was prompt and clear with all communication"
—Osama Rao from from Munster, IN
Get to know Cheryl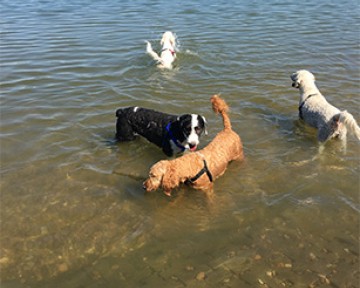 What is your motto or personal mantra?
Be Happy, Be Humble, Be Grateful, Be Silent.
What is your favorite sports team?
I am a Mizzou Tiger fan.
What is something that people would be surprised if they knew about you?
I am a terrible cook.
What's your alma mater?
University of Missouri
What is on your bucket list?
I would like to go to CA and wine country someday.
What aspect of your job are you most passionate about?
Treating people the way I would want to be treated.
Where did you grow up?
Columbia, Missouri, out in the country.
What are some of your hobbies?
I like to jog with my dogs (I have 4), I like to spend time with my family (and my 4 dogs), I like to watch college football.
Before working at NBKC, what was the most unusual or interesting job you've ever had?
I worked for my Dad at his hometown grocery store (back when there was such a thing).