About Cheryl Kroll
Advice for New Home Buyers
Ask as many questions as you can, as clarity helps alleviate anxiety.
Amazing
"Amazing is an understatement. Cheryl has been there for us every step of the way and I will recommend her time and time again to all of my friends and family looking for a home loan."
—mduran0351 from from Moorpark, CA
HIGHLY RECOMMENDED
"Cheryl was on top of every move for my refi. She was extremely helpful and responded immediately to my questions and next tasks to complete the transaction. I more than highly recommend her and NBKC for mortgages I had no negative experiences what so ever."
—Tom K from from Coventry, CT
She is very professional
"Cheryl is the best loan officer that I worked with, she met all my needs in my home mortgage within a shorter time of period that's why I closed the sale earlier than expected. She is accurate in here answers. Always gives you options to choose. Always answers your calls or calls you back within 10 min. I recommend her to all clients who look for accurate, fast, professional service. Do not hesitate to call her and get her advice."
—Ahmad Ghanem from from Totowa, NJ
Best Broker!
"Cheryl was amazing to work with. She was knowledgeable, responsive and kind! I would highly recommend her. She made the home buying experience painless and easy."
—Keri S. from from East Meadow, NY
Happy Repeat Customer
"We have used Cheryl three times for refinancing our homes, and she has been really easy to work with every time. She is quick to respond and attentive. She is friendly and professional. We will definitely use her again if the need arises. Thanks Cheryl!"
—K&SW from from Albany, OR
Another stress-free re-finance!
"We were able to refinance both of our mortgages within the last month with Cheryl's help and were never stressed about anything. She is the most trustworthy, knowledgeable and helpful loan officer we have ever worked with. She was always available to answer questions or explain any process we were unfamiliar with, and did so with absolute professional and sincerity. I would highly recommend Cheryl to anyone!"
—Mike R. from from West Chester, PA
BEST in the Business !!!
"We feel like Cheryl is family, We have worked with her five times now and we trust her 100%. She is beyond professional and one of the hardest working people we know! She is also one of the sweetest people on the planet! She is a cross the t's dot the i's kind of person-super detailed. She was on top of everything, communication was excellent. We have recommended her before and will continue to recommend her in the future!"
—D & T Christianson from from Saint Augustine, FL
Phenomenal
"Cheryl made this process so painless and expedited everything faster than most lenders. I found a house on 17 Feb 2018 and closed on 20 Mar 18. Great interest rate. Update to this: Cheryl continues to be the greatest at what she does. I decided to work with her again for my other home purchase at my new duty location, and the process was even smoother than I expected. I will ALWAYS recommend her."
—Jennifer from from Marietta, GA
BEST MORTGAGE BANKER ON THIS SIDE OF HEAVEN
"Cheryl was referred to me by a friend and co-worker, which him referring her to me was the best thing that could have happen for me in my buying experience. Never not once did I have to ask for anything and after Cheryl asked me to get her any documents, she never not one time asked me a second time, which was a going complaint I had read over and over by consumers working with different bankers. I truly, truly could not be more pleased with the professionalism and the down to earth individual Cheryl is, I'm hard pressed to think there would be another person in her industry to do it better than her. I told her personally, and I'll say it in this review, Cheryl truly was the MVP in my first time home buying experience and I am more than grateful for her. Thank you Cheryl."
—Cody Bohanan from from Piedmont, OK
Smooth, anxiety free process, great service!
"We've refinanced our mortgage several times with Cheryl and she has always made it a very smooth, anxiety free process. She always keeps us informed every step of the way. I can't imagine working with anyone else."
—john mcdougald from from Columbia, SC
Get to know Cheryl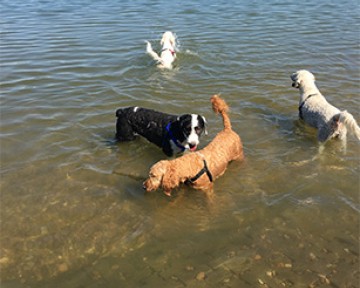 What is your motto or personal mantra?
Be Happy, Be Humble, Be Grateful, Be Silent.
What is your favorite sports team?
I am a Mizzou Tiger fan.
What is something that people would be surprised if they knew about you?
I am a terrible cook.
What's your alma mater?
University of Missouri
What is on your bucket list?
I would like to go to CA and wine country someday.
What aspect of your job are you most passionate about?
Treating people the way I would want to be treated.
Where did you grow up?
Columbia, Missouri, out in the country.
What are some of your hobbies?
I like to jog with my dogs (I have 4), I like to spend time with my family (and my 4 dogs), I like to watch college football.
Before working at NBKC, what was the most unusual or interesting job you've ever had?
I worked for my Dad at his hometown grocery store (back when there was such a thing).