About Kyle Norris
Advice for New Home Buyers
Purchasing a home is one of your biggest investments you'll typically make. Make sure to get prequalified as your first step with a great loan officer. This will ensure that you're qualified and give you more buying power once you connect with a real estate agent to shop with.
Fantastic
"Kyle was personable and a class act from the start. He was diligent and timely when preparing our file for our home refinance. Contacting him was a breeze which has been difficult with previous professionals and I appreciated his prompt replies to any questions I had. It is obvious when working with Kyle that he loves his job and he is genuine with his customers. We felt honored to work with Kyle for our home refinance and I would choose him without question in the future!"
—achristensen14 from from Hermiston, OR
Excellent experience
"Kyle was very responsive via telephone, email, and text throughout the lending process. He was able ti help get us closed in 25 days during the holidays in order to apply for homestead exemption the following year. He took the time to explain pros and cons with buying down points, refinancing in the future, etc. Closing costs were extremely competitive. This is my second time working with Kyle. I highly recommend him and will continue to work with him in the future. "
—Madeline Vernese from from Stuart, FL
Excellent choice!
"We were super happy with how smoothly and quickly our refinance was when working with Kyle. He laid out all our options clearly and helped us pick the one that would fit our needs best. And he was always available to help when we had questions! I would highly recommend using him for refinancing or even a new mortgage."
—Kelvin from from Wichita, KS
Awesome Mortage Refinancing Experience from Kyle Norris.
"We would like to acknowledge the exceptional service that we received during the entire refinancing process. Kyle Norris professionalism and knowledge of the industry were impressive and truly appreciated. The service and personal attention we received from Kyle were exceptional and beyond what we were expecting. Kyle went above and beyond to ensure that all of our needs were met and that everything was handled thoroughly and efficiently. He is always responsive and addressed all our questions and concerns in a timely manner. Quick and easy processes made things easy for us and less stressful."
—Sriram V from from Phoenix, AZ
Very appreciative of Kyle and NBKC
"Kyle was extremely patient, knowledgeable and professional in helping us navigate our refinance notwithstanding the tough market environment. Would recommend him and NBKC highly!"
—MichaelWallander from from Austin, TX
Amazing!
"Kyle worried with me very well was very very good at communicating. He got everything done so fast. Zero hiccups and I would definitely recommend him to anybody"
—Gary Matthews from from Basehor, KS
Great working with Kyle
"It was a pleasure to work with Kyle on my recent mortgage with NBKC. He was always pleasant and had incredible patience as we worked through getting the many documents required by the bank uploaded into the system. I even enjoyed our friendly chats and appreciated his help to keep my rate locked in during a period when rates were rising. He has continued to be there even after the loan was funded when I had questions or concerns. I would definitely bank with him again."
—Josiah Wilcox from from Westport, CA
Kyle makes it easy! Closed in 2 weeks, on time, with no hassles!
"Kyle makes the process extremely easy and straightforward and handles the hard work of navigating the loan process. I only had to submit a few documents and the process was very smooth and easy. We asked for a 2 week closing and he delivered. Will recommend him to others!"
—Elijah B from from Saint Paul, MN
Amazing experience
"We worked with Kyle Norris on our home mortgage. Kyle was able to help us in a very quick and promt way. My mortgage related work was done in a few weeks. This only happened due to Kyle being there with us to finish our mortgage paperwork and all the things that come with it. We would work with Kyle again if our needs arise. I would highly recommend Kyle for your mortgage needs. Wishing him best."
—Parin Shah from from Somerset, NJ
when interest rates are about to change…
"…They make sure to check with Kyle Norris first. all right, enough with the terrible Chuck Norris joke reference, but Kyle was great. Every step of the way, he was there with phenomenal communication (which was very important to me). He's also very easy to work with, and very calm. we had a last minute game changer but he saw us through and got our loan approved on time anyway! Would recommend Kyle to everybody! Thanks Kyle!"
—PMaz from from De Soto, KS
Get to know Kyle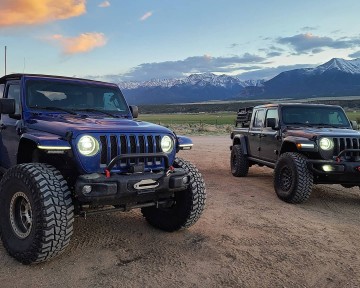 What is your motto or personal mantra?
Things may come to those who wait, but only the things left by those who hustle.
What is your favorite sports team?
Go Chiefs!
What is something that people would be surprised if they knew about you?
Love to do some overlanding and wheeling.
What's your alma mater?
Pittsburg State University
What is on your bucket list?
Retire and travel the world.
What aspect of your job are you most passionate about?
Helping my clients achieve their financial goals through a true professional experience that creates knowledge and long lasting relationships.
Where did you grow up?
Tonganoxie Kansas
What are some of your hobbies?
Family outings, Running, Cycling, Hiking, Off-roading, Camping, Fishing, Canoeing, and drinking some good beer.
Before working at nbkc, what was the most unusual or interesting job you've ever had?
I use to be a DJ for weddings and parties.