About Keith Andrew
Advice for New Home Buyers
Find a payment that is 1% of your gross household income and you will never be stressed to make the payment.
Phenomenal work!
"Keith made the process smooth from start to finish for our loan. He went to bat for us and helped us meet closing and get everything in order for our new mortgage. Overall- a very great experience!"
—Bridger Mejia from from Kansas City, MO
First Home-Buying Experience Made Easy
"Keith made our first home buying experience wonderful. He was extremely prompt in his responses and was always willing to pick up the phone to discuss any questions we had. Keith went above and beyond to make sure we understood each step of the process and I would recommend him to any family member or friend."
—Kathryn Koier from from Charlotte, NC
Great service
"Keith was a great help through every step in the process! I would definitely recommend him to others and wouldn't hesitate to use him again. Thanks for all your help Keith!"
—Sue McGrath from from Anderson, SC
Easiest Transaction Ever!
"We currently refinanced with Keith and it was the easiest refinance/mortgage ever! We have had some terrible experiences with other mortgage lenders and this was an excellent choice for us...the process was simple and FAST!! I highly recommend Keith and NBKC Bank!"
—Rosemary C Schultz from from High Bridge, NJ
Keith exceeded our expectations!
"We were completely impressed with Keith Andrew's professional approach! He answered every email/text/call in a timely manner, answered every question or concern we had and was several steps ahead of the process. In short, he had our backs and didn't let anything slip through the cracks."
—LA Village from from Hot Springs Village, AR
Beyond all Expectations
"Keith had an answer for every question I had. Being a first time home buyer there were a "few". I have a tendency to be a little impatient and Keith was great all the way through to the end. Even more he made sure I had a point of contact while he was on vacation in South Africa and even managed to respond to an email or two while on vacation. I will recommend him to anyone I know that is getting ready to purchase and will work with him again on any future purchases. Thanks again for making me a homeowner."
—vanessa george from from Seabrook, TX
Refinance
"Keith responds very quickly and is very professional and honest. I am happy with the service and highly recommend him for mortgage loans. The whole process took less then a month."
—yiguangju7 from from Pennington, NJ
Easy to deal with
"He guided us from start till end, although hurdles is usually part of the process but with his team besides him, everything turns out for the best. He is highly recommended ,definitely one of the best & very professional. Don't think twice call him if you wanted a smooth transaction."
—Robert V from from Vacaville, CA
Great help and support!
"I had the best experience working with Keith! He's very responsive, keeping his promise, extremely helpful and could explain everything about the mortgage process in a very simple way! I'm glad that I had a chance to work with him!"
—Alina I from from Kansas City, MO
Thanks a lot for Keith
"Keith is great lender and helped me a lot during purchasing home, and I am very happy and would like to recommand him to my freinds if they need lender as well in the future"
—Li Jie from from Lutz, FL
Get to know Keith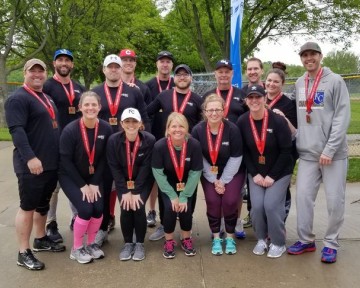 What is your motto or personal mantra?
Be honest and don't be afraid to let others know where you stand.
What is your favorite sports team?
St. Louis Cardinals baseball and Blues hockey.
What is something that people would be surprised if they knew about you?
I was a state diver and swimmer, played professional Rugby, was a cheerleader for Mizzou, and Jr. Olympic champion of U-14 Fencing… I played odd sports :)
What's your alma mater?
Mizzou
What is on your bucket list?
Hunt a Russian Moose.
What aspect of your job are you most passionate about?
Leading by example in my work ethic.
Where did you grow up?
St. Louis, MO
What are some of your hobbies?
Hunting and boating.
Before working at NBKC, what was the most unusual or interesting job you've ever had?
Door to Door gas sales in trailer parks.