About Zach Sediqzad
Advice for New Home Buyers
Absorb information and make the best decision for you and your family. This is not the only property you will buy in your lifetime. Also, reading a few online articles does not make you a expert realtor, loan officer, or attorney. Be well informed and open.
Excellent Service & Excellent Outcome
"Second time working with Zach/NBKC and results were just as great as the first time! Zach is extremely knowledgeable, thorough in explaining every step of the process, and readily available to answer any questions. He is a professional in his field, who made sure I was fully informed and had all the knowledge to make the best financial decisions. Would definitely recommend working with Zach to anyone looking for mortgage loan assistance!"
—Omar N. from from Orange, CA
Stellar Service!!
"This is my 4th deal with Zach. As always, this was a an outstanding and simple process. Zach makes it so easy and have your best interest at heart. I will never use another Loan officer. This was by far the smoothest closing to date. I highly recommend him and will use him always. Zach is a shinning example for what a loan officer should be like. Respectful, diligent, confident and really knows how to get the job done. Thank you."
—Glenn from from Kissimmee, FL
Consummate Professional
"Zach is the BEST loan officer I have worked with in buying 5 homes. He explains all the options, answers questions promptly, and is quick to move the loan process along. My lawyer representing me in closing says Zach is the best he has seen in responsiveness and proficiency in more than 20 years of representing buyers. You really need look no further… it doesn't get any better!!"
—jwconroe from from Red Hook, NY
Top notch experience
"Zach provided us the best mortgage or refinance experience we've ever had. The process was simple and seamless. I couldn't recommend anyone higher if you need a mortgage or refinance. Contact Zach and let him make your experience the same. Thanks Zach!!"
—dennismilsom from from Overland Park, KS
Great service and very professional
"I have used nbkc bank twice to refinance and I have been impressed both times. They are very professional and knowledge. My rate was very competitive as well from them so I felt that I was getting the best rate. They walk you through the process the entire time and ensure you understand what is needed and what to expect. I worked with Zach Sediqzad both times and he did an amazing job. He was responsive, answered all my questions timely and ensured I was updated as well what to expect next. I like my experience with him and the bank the first time which is why he was the only one I called to do it again. I highly recommend this bank."
—Jamine from from Round Rock, TX
Look no further- This is your guy!
"Zach was SO amazing! We will definitely use his services again! He was so thorough and was on top of everything during the entire process! We attempted a refi prior to this one and it was a total nightmare, but not this one! The rates were on point and the process was a cake walk! Thanks Zach!"
—m dunn37 from from Hendersonville, TN
Oustanding from every angle
"Zack delivers as promised. Right on down the line. This is our 2nd time working with him in two different states. We had a VA loan and VA refi. No off-the-wall fees from these guys. We are always going to look to him for any loan or refi in the future."
—Shawn from from Port Charlotte, FL
2 for 2 with Zach.
"Update: We just finished our second loan with Zach. It was a refinance of the home we purchased a year earlier. Zach found us a refinance option that would allow us to save $100 off our monthly mortgage at a very low closing cost. His communication was excellent, and the process was very simple for us. I have recommended him to several friends because I know he will take care of them. Original: Zach was outstanding. A friend referred him, and we were very happy with him throughout the process. Our loan was more complex because it was a VA/Conventional loan hybrid. Zach worked through it flawlessly, and ensured that we satisfied all VA requirements, and got a very low rate. He also coordinated for several thousand dollars in lender credits. A smooth process throughout, no surprises, and excellent communication."
—milgram12 from from Lehi, UT
Extremely Responsive
"Zach helped me get a loan for my primary residence in GA and was an absolute pleasure to work with and was very professional and responsive throughout the entire loan approval process. Being a realtor myself I recognized that he offered an extremely competitive rate and great loan terms, I look forward to working with him again on my future loan servicing needs"
—Terrell Anthony from from Powder Springs, GA
dishonest and deceitful
"Would have given zero star if possible. We came to NKBC bank for home mortgage from costco's recommended lender. The final APR was 0.3% higher than the initially quoted APR. What's worse is the Zach refused to provided an explanation. Zach: " Usually people don't even notice the difference". Read between the lines, " If you don't have a degree in finance you'd better go to another bank because we are dishonest and deceitful. We try to take advantage of nice and trustful customers". Do your do diligence or actually just find a lender who has some credibility."
—Ashley from from Maple Valley, WA
Get to know Zach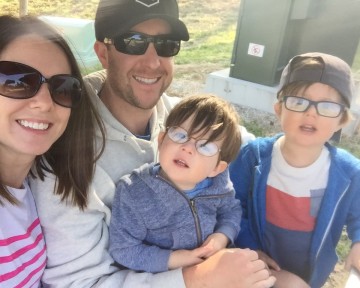 What is your motto or personal mantra?
Work smart and hard and everything will fall in line.
What is your favorite sports team?
Anything KC for major league and KU Rock Chalk!
What is something that people would be surprised if they knew about you?
I love cars and wanted to be an automotive designer.
What's your alma mater?
University of Kansas...KU
What is on your bucket list?
Learn guitar and piano, be more artistic, learn 5+ languages, embrace culture, skydive
What aspect of your job are you most passionate about?
Helping VA clients to get into homes.
Where did you grow up?
Overland Park, KS
What are some of your hobbies?
Is work a hobby? Being with my family and 3 young boys. Being social with friends and neighbors. Going to local events. Watching comedy/stand-up and numerous documentaries.
Before working at NBKC, what was the most unusual or interesting job you've ever had?
I was an intern at a local angel investment firm and start up incubator.