Timely and great customer service
"Amy made the loan process so smooth as we moved from MN to GA. This is only the 2nd time we have done a purchase and were unsure of doing it remotely. But it worked out great."
—TeresaRose3 from from Buford, GA
Professional, Transparent, Responsive
"This is the second time we've closed with Amy, though she has been helpful over the years in multiple situations where we were looking in various geographic locations (we're military). In call cases, Amy was incredibly fast, honest with options and always with great rates compared to others. We were successful on this closing and our realtor was so impressed that I think Amy will become one of their preferred recommendations. Thank you Amy!"
—C. Craige from from Gibsonville, NC
Made the process simple
"Amy is remarkably squared away and her communication is excellent. We never felt unsure about where we were in the process. She handled everything very promptly and professionally. I would have no problem recommending her to anyone looking for financing help."
—d gelling from from Roswell, GA
Awesome Amy
"Where do I start with this review, all I can say is that Amy Stuhr Patterson is the best. Amy is professional, precise, responsive and pretty much the best Loan Officer I have every dealt with. There are many online mortgage lenders out there that talk a good game and they promise you the Moon and the Stars but Amy and NBKC is the best lender out there by far. Amy recently closed my refi in less than 30 days. I have used Amy in the past and will always go to Amy and NBKC for all my future mortgage needs."
—Kevin Deloatch from from Riverview, FL
A personal and professional guide through the home loan process
"A friend referred Amy and she was a savior from the start. Unknown timelines with a new build cause added stress, but Amy was on top of it every step of the way. Amy gave the personal touch with her persistence in keeping all sides on timeline with required documents leading up to closing. I'm convinced that I wouldn't have gotten that attention with the several other mortgage lenders I've used in the past. Amy helped get us to the finish line with our file being at the ready the minute the house was ready to close just before the holidays. Having Amy and nbkc in your corner is a must."
—Jeff A. from from Nolensville, TN
First time home buyer
"Amy was super helpful with all of my first time buyer questions. I would highly recommend her to anyone looking for a home loan. Additionally, the notary for all my paperwork wouldn't stop saying how low my rate was thanks to Amy!"
—Phillip Annis from from Tacoma, WA
You won't regret working with Amy
"Just finished closing on a refi with Amy after fighting with a local bank for 5 months and not being able to get it done (she took 5 weeks). It doesn't matter if you've never heard of NBKC or that they don't have a branch anywhere near you, Amy has provided better customer service and better communication than any local bank I have worked with. This was our 4th closing with Amy and I wish I would have called her sooner for this last one…"
—Jeff B from from Miramar Beach, FL
Excellent experience
"This is my 3rd or 4th loan with NBKC and specifically with Amy. She's one of the best and easiest to work with. I love that she keeps you informed and immediately answers any and all questions quickly. I won't use anyone else. "
—bcookf16 from from Clive, IA
Excellent Customer Service
"We have used Amy several times over the years for our refi's, new home purchase and now investment property purchase. She is always amazing, on the ball and extremely helpful. You are in great hands. Call her today!"
—Jennifer F from from Kingman, AZ
Easiest Mortgage I've Done
"Amy was excellent all along the way getting a mortgage for new construction. She was always quick to respond to inquiries and had all the answers to any of our questions. Highly recommended!!"
—Andrew Balsone from from Newnan, GA
Get to know Amy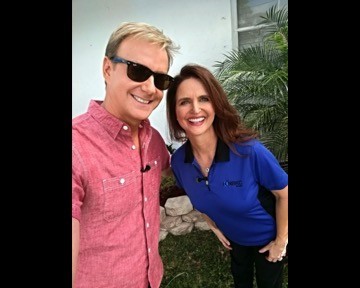 What is your motto or personal mantra?
Deep breath....This will be in your rear view mirror soon enough!
What is your favorite sports team?
I fly my Kansas City Chiefs flag every Sunday!!
What is something that people would be surprised if they knew about you?
I am an avid equestrian and have trained and shown horses in the sport of Dressage since I was a kid!
What's your alma mater?
University of Kansas Class of 1988!
What is on your bucket list?
My husband is a commercial airline pilot and has a plane. Would love to take an extended vacation and travel around the country exploring. Airplane hop from state to state!
What aspect of your job are you most passionate about?
Helping to take the stress out of the home buying process for my borrowers and realtors!
Where did you grow up?
I grew up throughout the Midwest; Iowa, Nebraska, Illinois, Kansas, and now Missouri. As my father went up the corporate ladder, we moved many times. I attended 13 schools from K-12! Taught me how to make friends and meet new people at a young age!
What are some of your hobbies?
Riding/Breeding/Showing horses, and cooking!
Before working at NBKC, what was the most unusual or interesting job you've ever had?
Not unusual or particularly interesting, but I worked as a clerk at a dry cleaners when I was in high school. The owners really took good care of their customers...Knew everyone by name...Would see them pull up and bring up their clothes even before they entered the store. I learned a lot about customer service from them!